Yes, you can control your sexual mood and the sexual feelings of your partner in an intimate relationship.
These tips are for loving couples or boyfriend and girlfriend with moderate libido. If your partner is having low libido, you may want to address the causes of the low sexual drive first.
Getting in the mood for sex is a mind game. You need to shift your thought and that of your partner on things that are pertaining to romance and sex. In this way, the brain can release more oxytocin, serotonin, dopamine and norepinephrine hormones in the brain.
How to Make your Partners's Mood Romantic?
Today, i would like to help you to create a wonderful atmosphere full of romance that will get you in the right mood for the erotic highlight of the evening.
Whether your partner is living with you as a couple or he/she do come visiting as a partner in a love relationship, you should warm up his/her mind beforehand.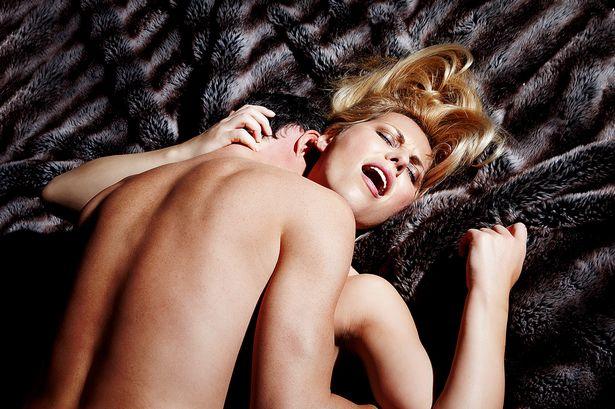 Send love and erotic messages in advance
There are different ways to do that now. You can engage in sext chat on social media, send romantic GIFs and images to spark up his/her interest.
You should also show concern if he/she is having issues bordering him/her.
You can write nice messages telling your partner how much you've set up romantic bedroom for him or her, and how much you are looking forward to be together soon.
Tell your partner about the flower decorations, candles of different colors you want to kindle, new perfume and deodorants, and gifts awaiting him or her, etc. That creates a bond and mutual anticipation.
Ceremonial dining
When your partner is around, engage him or her in ceremonial dining at home, or outside. You can combine eating with social interaction and enjoyment together.
A celebratory meal is therefore very suitable for creating a romantic atmosphere. Here, you should focus on your partner's favorites.
Also, you can cook together, but maybe that stresses you out and you don't want to spend the evening "working".
Then either one of you can cook beforehand and solemnly decorate the finished meal – with candles on the table, freshly chilled champagne, a beautiful tablecloth, and the most beautiful dishes in the cupboard – or you can go to the restaurant, where everything is done for you and all you have to do is eat and enjoy the atmosphere.
If you are very close to nature and prefer to be outdoors, a picnic can also be very romantic when the weather is nice.
Eating, drinking champagne, and cuddling on a blanket under the shade of a large tree is romantic when you don't need the luxury of a finely laid table and you don't mind one or two animals roaming around.
Go for a walk at sunset
If your romantic date falls on a sunny day, you're in luck: nature offers you one of the most beautiful and romantic sights of all, the bright red sunset.
Go out for a short walk beforehand and look for a place where you can see the setting sun particularly well – if you are aware of it, it gives you goosebumps. Especially when you have the person you love most by your side.
And if you want to stay outside longer and the sky remains cloudless, you can enjoy another incredibly romantic sight: the starry sky.
Switched off cell phones
It only gets romantic when you both don't get distracted and you can be sure that you will be undisturbed.
Candlelight and quiet music
Candles and romantic music are of course not new tips, but they are not classic for nothing. Who does not get into a crackling mood in warm candlelight and with beautiful, romantic songs?
While the song is on, you can start dancing together slowly. Gaze at his or her eyes, and leave him wondering what's on your mind, lick and bite your lips to send a powerful message of wanting to get him/her.
If your partner is getting aroused, don't wait to anywhere, you can have a ballet dancer sex while the music and the dancing is on.
If you are not able to get to dance, follow the next step below.
Erotic massages
When it crackles, you have seen the sunset and/or enjoyed a romantic meal, the music is on and the candles are burning, you are already full of lust for each other.
Now, send more erotic massage that fit perfectly into your sexual experience together before you have sex with each other.
Take a little massage oil and pamper each other on all parts of the body that you would like to have massaged.
If you are not very familiar with the art of massage, you can use couple sex toys together.
In any case, you don't have to be a professionally trained masseur to perform a pleasant erotic massage that leaves you wanting more.
You can find more about sensual touches that stimulate the body and mind in this article.