As humans, we think dirty and weird sometimes, however, pregnant women often have dark thoughts and bad dreams.
No matter the circumstances of pregnancy, when the due date approaches, every mother looks forward to the moment of delivery and fantasizes about it.
This anticipation is often clouded by sudden postpartum depression after birth.
What is Postpartum Depression?
Postpartum depression is a negative mood that can affect both mother and father after the birth of a child.
This occurs immediately or later after the birth of a child because the affected person thinks a lot about the past and future life.
Especially with the mother, hormones also play an important role here as the mother can get a little out of balance giving birth.
Now that the child is born, everything will inevitably be different and many new parents do not even know how to deal with this change properly.
Every 8 out of 10 new mothers feel worried and in bad moods for a few weeks after birth and about 15% of them even suffer from postpartum depression.
Therefore, postpartum depression should be taken seriously and treated properly, you don't have to blame the affected person or ignore her worries, this can lead to more serious issues.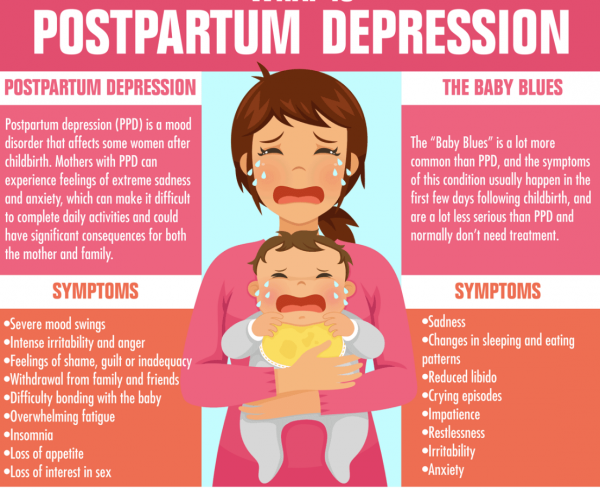 Symptoms of postpartum depression
The signs of postpartum depression are similar to normal mood swings or bad mood, but it's deeper and last much longer.
How long postpartum depression lasts depends on how quickly you're able to stop thinking about the past, and shut your mind off against disturbing things.
Dirty thoughts can disrupt regular everyday life and also endanger your health.
If something traumatic happens to you during childbirth and bothers you at night, you can talk to your doctor to help stop negative thoughts from entering your mind.
Some of the signs of postpartum depression are the following.
Serious sadness
Regular cry
Exhaustion and insomnia
Excessive need for sleep
Disturbances in feeling hungry
Frequent irritability and anxiety
Severe mood swings
A feeling of loss of control
Being overstrained with the baby
Being overstrained with things
little or no relation to the baby
Escape needs
The feeling of being a bad mother
Thoughts about harming yourself or hurting others
How do you get rid of Dark Thoughts?
Postpartum depression is a disease that has long been known and recognized in both mothers and fathers and requires treatment.
It's not easy to stop thinking about something that affects you forever, but you can get help to get something off your mind gradually.
If the thoughts become cloudy and gloomy, talking to your gynecologist or the pediatrician makes sense.
The first ste makes sensep is to consult your family doctor, and he can then refer you to a psychologist and after a few sessions, you're much likely to feel much better again.
It is by no means a shame to admit postpartum depression and seek help.
Conclusion
Above all, depressed parents should seek help when needed. This gives security that can often be lacking in the period after the birth.
Neither of the two parents should burden themselves with the child more than they can cope with at the moment, instead, you should ask for help if you notice that everything is getting too much.
The time together and, above all, the times when you can only do something for yourself are very important and you should find ways to handle it.