Genital Melanosis vs Melanoma
What is Penile or Vulva Melanosis?
One of the rare found diseases among men and women is genital melanosis.
Genital melanosis causes the problem of discoloration of the skin, usually dark drown spots around the genital area, usually in the upper part of the penis and around the vulva in females.
There is no other symptom of penile melanosis and vulva melanosis than this, and the disease is in no way known to be contagious.
There is no requirement for any form of treatment for people who are facing such issues unless it's accompanied by rashes, bleeding, or severe pain.
What are the Causes of Genital Melanosis?
There is no particular cause of this disease, and genital melanosis isn't something serious, compared to genital melanoma.
Melanosis occurs as a result of an increase in the cells responsible for the skin pigment (color). Therefore, skin discoloration around the genital area is likely to be a result of excess production of melanin (hyperpigmentation)
However, there are common denominators in people that suffer from penile or vulva melanosis, which are the following.
They are usually between the age of 18 to 70 years. This means that genital melanosis affects adults, however, it's a rare disease that affects about 1 person in 100,000 people in a year.
Genetics can play a role in penile and vulva melanosis.
Past injuries to the genital area, particularly the penis and around the vulva can also cause melanosis to the affected area.
After going through some skin problems, the risk of genital melanosis can also be increased.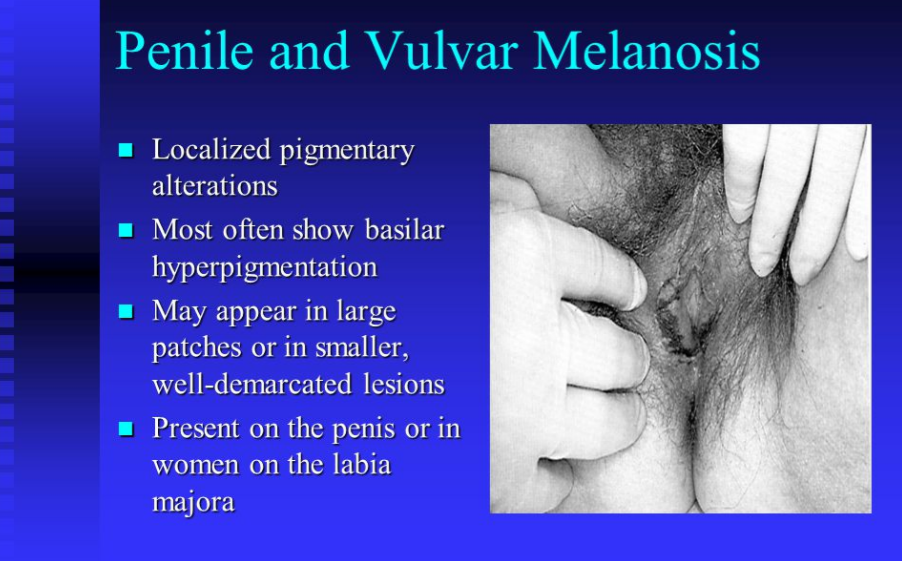 What is Genital (Penis and Vulva) Melanoma?
Cancer is one of the most severe issues that might lead to the death of a person.
Melanoma is a serious skin cancer that develops in cells that are responsible for skin coloration.
Melanoma is primarily seen in the face, trunk, and lower legs or any other parts of the body in some other cases.
Melanoma can affect any skin tone, age, but usually in adults, and irrespective of the level of skin exposure to ultraviolet radiation.
Causes of Penile Melanoma
There is not a single cause of melanoma, whether it affects the eyes, penis, vulva, foot, or other body parts.
The change of occurrence of this disease is more if any of the causes is seen:
Weak body immune system

Personal or family history of melanoma

Excessive exposure of the body to ultraviolet radiation
Some common symptoms of genital melanoma include a change in an existing mole and the development of new pigment.
How to Avoid Penile Melanoma?
The risk of genital melanoma will reduce if the person considers some crucial factors in their lifestyle.
You should avoid exposing your skin to ultraviolet rays from the sun for a long period as it is a major cause of the problem.
You can also plan to wear clothes that are protective if your nature of job increases the risk of exposing your body to radiation.