The first week at home with a newborn is full of drama, especially when you're having your first baby in life.
Old mothers already knew that baby first days or first 2 weeks of life is the hardest.
For example, the newborn first week sleeping pattern is very irregular. In the first night at home, your baby may not seep in bassinet and won't stop crying.
Nevertheless, you should have made full preparations for your baby in advance before you're discharged from the clinic.
Set up your baby's room, get the clothes, toys, feeding accessories, and baby gear all set, so there's no much to do when you get home.
Nursing Mothers' FAQs in the first Month of Baby life
What is the hardest time with a newborn?
The toughest time is the first month of baby life, as your little darling grows, you get used to him and can attend to his needs.
First night home from hospital and baby won't sleep?
Right from the womb, baby's REM sleep is 50% or more, and mostly at night,so when they get to a new environment they'r not used to, it's likely seeing them awake at night.
How to survive the first few days and night?
Eat steadily and drink a lot of fluid, take your time to rest, and avoid stress. You would have more time to spend with your newborn,and the more you do that, do more he feels associated and calm.
What to expect from your newborn in first few days?
Your baby will want to eat from time to time, sleep and some will cry unnecessarily, sing and play with your baby, caress and make the room comfortable for him.
Spending much time wit the baby in the day will get him active and can help with better sleep at night, perhaps, you'd have to train the little baby proper sleep rhythm.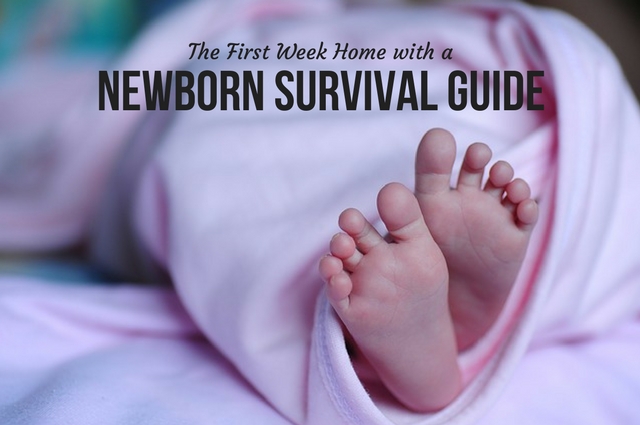 Bonding with the Family
1 month old baby activities are limited, and newborn baby care in the 1st month can be stressful.
You're just learning about your baby at this time, yet, you need to respond to his needs even when you don't have much understanding about it. You can learn baby communication without words for better understanding on this.
The first few days are about growing together as a family, get every member of the family interact with the baby so they can start getting used to each other
The baby will soon start to recognize each person's voice and face in the family, and the joy can be expressed in his face when he sees them.
Getting Help and Support from the Family
To survive the first month with your newborn, baby care should be supported by the family, especially if you've undergone cesarean section.
Even with vagina childbirth, a new mother is still weak and should not be engaged in much physical activities.
While you breastfeed your baby, your grandmother or mother in-law can cook the food, your husband can the the laudary work, while your kid sisters can take care of the garden and your pets.
If you already had older children, then things can be easier or difficult at the same time if the they're kids.
You can ask your good friends or siblings to help you with the care of the older children if they're kid.
Conclusion
Your family and friends would want to visit you in the first 24 hours with your newborn baby.
Grandma and grandpa, uncle and aunt and friends want to see your new baby and play with him/her.
You shouldn't feel compelled to cater to every visitor's need or to have a perfectly organized home setting.
All of this is irrelevant in the first few days at home but anything that can be done before birth should be done beforehand.